A few weekends ago we had Josie's 'big' birthday party with all her (and our) friends. We crashed my parents house and turned the backyard into a kids playground with various slides, climbing structures, food and of course the bounce house. It was very popular with most all the kids from age 4.5 to 1.
Josie had a good time. She was a little intimidated by all the people to start with though. She spent a bit of time in the house watching before she was ready to come out and join the party. She bounced, she rolled, she climbed, she swung and she said hi to her friends as she ran by. Here's some photos and videos of the chaos.
We also got these big huge beach balls (42″) which were a big hit with kids and adults alike. They were a blast to throw around and catch because they moved so slowly.
The beach balls combined with the bounce house were another big hit.
Some of the kids had to be dragged away from the bouncing practically kicking and screaming, but thankfully it's our bounce house so we'll be able to bounce again another day. Also with much thanks, everyone kept their food down while bouncing!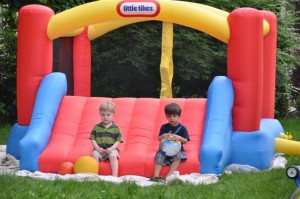 We had a few peaceful moments but otherwise just food and fun for an afternoon. Josie liked her (second) caterpillar cake, this one courtesy of costco. She was able to blow out her candles this year, one at a time!