One of our favorite places to visit down in Miami is the zoo, it's huge and very impressive. Last time we visited Josie was about 7 months old and she was interested, but not entirely engaged with actually looking at the animals. Now she's very excited to see the new animals, except for the elephants somehow bothered her. She kept telling it to go away, oh well.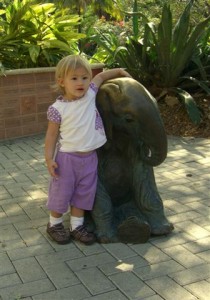 She brushed a pig and fed sheep. She marveled at the camels while we ate our lunch. The howler monkeys were a huge favorite as they were making a ton of sounds and the tigers had a big fight right while we were watching — Josie cheered them on 'mas mas' (more more).
She also loved the playground and we even managed to get her to take a nap so we could stay most of the day. If you go with kids when it's hot, bring your water shoes and swim suits, they have a lot of water spray areas which we didn't let Josie run around in because she lacked the appropriate attire.