Saturday morning in Amsterdam we tried to get up and out relatively early to make a side day trip to Keukenhof! We took the tram to the central train station, a train and then bus to get out there. Took almost two hours by the time we were done although we had to wait for some connections and buy tickets and such. Here's a video of Josie in the train station, discussing our favorite subject food, while we were waiting.

Then another video on the bus, where Celia was seeing cows out the window and demonstrating their sound! The iPad was good for some self-entertainment like this at least!
Once we finally got to Keukenhof and used the facilities as is always needed, we headed in to have lunch at the little cafe!
They had some tables right around a little pond with some ducks. Good time for cuddles and silliness!
So at this point if you didn't look it up, you might be wondering what is Keukenhof? Well it's a gigantic garden that is only open for about two months in the spring. While the flowers are the main attraction, they also have the quintessential dutch elements of dutch food, wooden shoes and windmills, some playgrounds and a petting zoo. With all these attractions, which we spent the whole day there looking at and enjoying, we took a ton of pictures. Here's a few samples.
For some reason this was another place that attracted random tourists to take pictures of my children. One guy literally got in front of me to take the picture. So let me know if you see someone elses picture of my kids around the internet somewhere.
Walking around the place has tons of birds, so my jacket and the stroller got pooped on twice! Thankfully it cleaned up easily and quickly. After seeing a bunch of flowers and taking some pictures we went to the petting zoo.
Celia was too scared to pet the cow, and almost too scared to pet the goat but you can see her sneak attack from behind the tree here.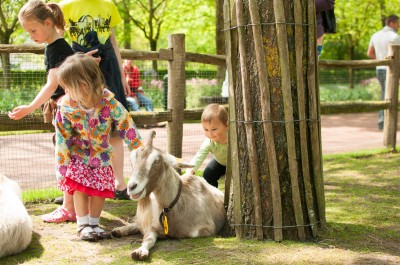 Josie on the other hand was enamored with the chickens and wanting to pet one. Other kids were much more aggressive and scaring them off. She finally waited and got her turn too as seen here.

After the animals we found the playground which was full of high climbing spots, big slides, a wooden house and a zip line!
We brought plastic cups and spoons with us everywhere for the girls to dig with since we didn't have any sand toys. They weren't the best substitutes but it was decidedly better than nothing and if they broke we just took out more.
Then we decided to do some more 'adult' activities like looking at the flowers and windmill and such which was met with great protest. They were a bit tired in the early afternoon. But we prevailed, took some more pictures and saw more sights.
We soldiered on to the windmill and found a stroppwaffel store that makes them fresh right there! They had their own specialized waffle iron that made the super thin waffles and slathered the caramel filling in themselves. We bought ourselves two and enjoyed them greatly although they actually weren't that different from the grocery store ones we had previously bought!
After that we listened to some folk music and then climbed up the windmill and walked ourselves out of the park and headed for home. It was a fun side day trip but definitely a bit overtiring for the little ones. On the way home Josie struck up a conversation with all the people around us on the train who were quite amused by her. We met some ex-pat's and former Cubans too. Celia liked to eat snacks and look out the window for more cows. Can't remember what we did for dinner at this point but it wasn't anything amazing, probably more Indonesian takeout.